Activities With Your Dog This Spring
Warmer weather has finally arrived. You and your pup are probably itching to enjoy the outdoors after spending the winter cooped up inside. Spring is here and no one is more excited than your dog! The change in season means longer walks and more doggy adventures. Defrost the outside toys, de-winterize your backyard and stretch those legs!
Things to do with your dog this spring:
Run wild and free.
Go off the grid to unleash all of your pup's pent-up energy. Find wide-open spaces to let your dog roam. Bring along plenty of toys to play fetch and a blanket to rest.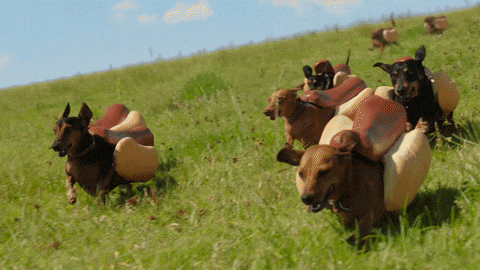 http://giphy.com/gifs/NmGbJwLl7Y4lG
Walk the long way home.
Soak up the beautiful weather by expanding your walking route. Explore your own neighborhood with a renewed perspective. Stop to smell (sniff) the flowers (everything) along the way. You and your dog will reap many benefits from a brisk stroll.
Meet friends.
Start a fresh season with new doggy buddies. Discover different dog parks around town to mix and mingle with like-minded folks. Find locations near you by using a locator app like Dog Park Finder or Yelp.
Start a workout regimen.
It's time to shed that winter coat and your dog can be just the motivator you need to get moving. From hiking to stair climbing, consider taking up an exercise routine with your pup.
Take a spring break.
Hit the road to explore a dog-friendly destination. There are plenty of hotels, campgrounds and beaches that will welcome your canine companion.  For a vacation without a hitch, follow these trip tips for traveling with your pup.
http://giphy.com/gifs/dog-car-mx3NTZ3HpWN2w
Go on a picnic.
Spend an afternoon just relaxing in the shade and snacking al fresco. That's what spring is all about! Pack a multi-use Travel Bag and Blanket full of outdoor essentials like a small water bowl, leash, toys and drool-worthy treats.
Revive your backyard.
It's time to prepare your yard for sunny days. Set up a kiddie pool for your pup to cool off. Organize a space to wash your dog with easy access to a hose, bucket, shampoo and a dry spot to hang up your pup's towel.
What are you looking forward to doing with your dog this spring?
READ MORE:
Activities With Your Dog This Spring
March 9, 2016