Bring Your Dog to Work Etiquette
Bringing dogs to the workplace has proven to increase productivity, morale, and motivation. Plus, it certainly beats seeing the look on your pup's face when you have to say goodbye in the morning! Whether you're participating in Bring Your Dog to Work Day on June 24th or you have an awesome job that allows dogs in the workplace, you'll need to make sure that your dog is office-ready.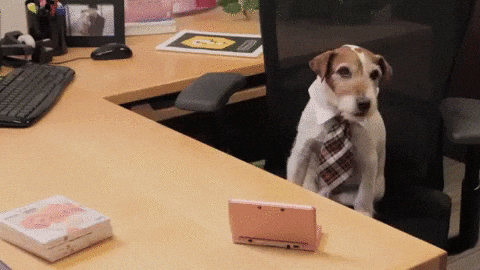 http://gph.is/1rnTd4H
Is your dog suited for the office?
The workplace isn't for every dog. If your pup is very hyper, barks a lot, or isn't up to date on all of his vaccinations, it may be best to keep him at home. Having a dog in the office is a luxury, so your dog will need to be on his best office behavior so that he isn't a distraction.
Be prepared.
Before bringing your dog to the office, be prepared for his visit. Set up a bed and TRAVEL BLANKET  for him near your desk to help avoid him from becoming territorial. Take precautionary measures to dog-proof the space (set up a baby-gate, tape down electrical wires, make sure food is out of reach, etc.). Also, have plenty of water, treats, and his favorite DOG TOY on-hand to make him feel as comfortable as possible in this new space.
You are responsible for your dog at all times.
Remember that you are accountable for your dog. Know the ground rules of where your dog can and cannot go. Some companies do not allow dogs in conference rooms, as it can be a distraction during meetings. Be sure to supervise your dog at all times, or even consider HAVING HIM ON A LEASH so he doesn't wander around without you.
Your dog should be house-broken before going to work.
If your pup isn't house-broken yet, it may be best to have him stay at home. And even if he is, accidents do happen, so be prepared with paper towels and pet stain remover just in case…
Work off extra energy.
Before heading into the office, go for an extra-long walk or jog with your pup to get that extra energy out his system. This will help to keep him more calm once he arrives at the office. Throughout the day, take breaks with your pup to keep him (and yourself) from becoming restless during the long work-day.
Make sure your pup is friendly!
Does your pup get along well with other people? How about other dogs? Make sure your dog is caught up on his training and socializes well with others before bringing him into the workplace.
Read more:
Bring Your Dog to Work Etiquette
June 22, 2016