Pamper Your Pup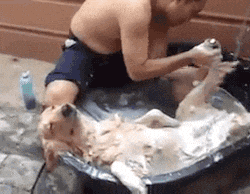 Your dog works hard at being a loyal, protective and happy companion. Reciprocate the love by giving your pup some much-needed T.L.C. The little things matter the most to your furry friend…like an extra pat or scratch. Show your dog how much you care by pampering your pup with these fun ideas.

Snuggle up. Nothing is more satisfying for your pet than to lounge around after a refreshing walk around the block. Next time you are ready to snooze, cozy up with your pup and a warm blanket.
Go on a shopping spree. Take your dog to a pet store and let him or her pick out the perfect toy. Bonus: you won't have to trek back to the store to return what your dog doesn't like. For the ideal plaything, give your pup a Canvas Dog Toy that's soft enough for your dog's teeth and gums while durable enough to hold up to rough play.
Give your dog territory. All dogs deserve their own comfortable space to rest and relax. Designate a spot in your house that is just for your pet with a dog bed and soft blanket.
Cook for your pup. Most homemade dog treats call for only a few ingredients making it easy for you to experiment in the kitchen. Try these 3-ingredient homemade peanut butter pumpkin dog treats or freeze blueberries for a crunchy and cool treat.
Blaze a trail. Humans are creatures of habit. You probably enjoy taking the same walking route each day while your dog is begging to mix it up. Unfamiliar surroundings and smells help stimulate your dog's senses. Next time you put on your dog's leash, explore uncharted terrain or take the long way home.
Park hop. Introduce your pup to new friends by visiting dog parks around town. Use a locator app like Dog Park Finder or Yelp to discover options close to you.
Teach your dog a trick. Nothing is more fulfilling to your pup than being rewarded for a task well done. Teaching your pup new things is just as important as exercise. Completing tasks gives your dog an outlet to burn mental energy, which can have a positive effect on your pup's temperament.
Schedule a spa day.
Make an appointment with a professional or simply set up shop at your house. Groom your dog from head to paws: clean teeth, brush and wash coat, dry with a super soft towel and then trim nails (a.k.a. pawdicure). Top off your pampering session with a cute bandana.
What's the nicest thing you've done for your canine best friend?
READ MORE:
Tips to traveling with your pup
Pamper Your Pup
March 7, 2016